주요사건. Stage 1
파멸: 7. 단서: –
THE CONQUEST HAS BEGUN.
ALL SHALL TREMBLE BEFORE THE HOST OF CHAOS.
SUBMIT OR PERISH.
Forced - When doom would be placed on this agenda: Instead, place 1 breach on a number of different random locations equal to 1 more than the number of investigators.
Forced - When a breach would be placed on a location with 3 breaches: Instead, resolve an incursion at that location.
Lenka Šimečková
혼돈의 손아귀에서 #285. 혼돈의 손아귀에서 #2.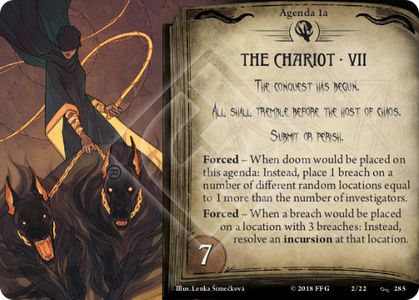 주요사건
The stars vanish in the night sky as the maw of the void swallows the horizon. The muffled beating of maddening drums and the thin whine of otherworldly flutes drift through the emptiness.
Check Campaign Log.
- If Anette Mason is possessed by evil, (→R3).
- If Carl Sanford possesses the secrets of the universe, (→R4).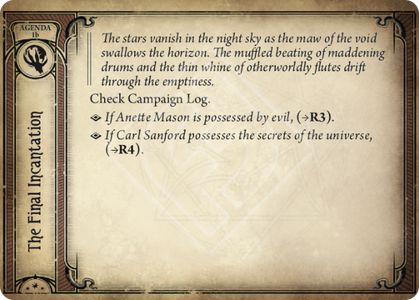 No review yet for this card.