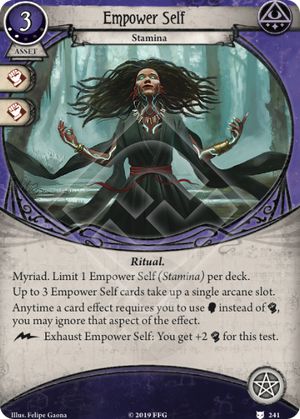 These Myraid Cards are specifically for one person and one person only.
Sefina Rousseau.
Spectral Razor and Read the Signs are the Events to duplicate and she has no innate ability to boost her Intelligence and Strength. And here is where these cards come into play.
Empower Self is best used with Mists of R'lyeh or later in the campaign with Ornate Bow to get up to 8 Agility. Yes, she does want Suggestion as well, so there would be three cards for evading in one arcane slot and the other three for basically everything else in another.
Also one other thing. She is so RICH she could solely afford to use those spells.
No paranoia.