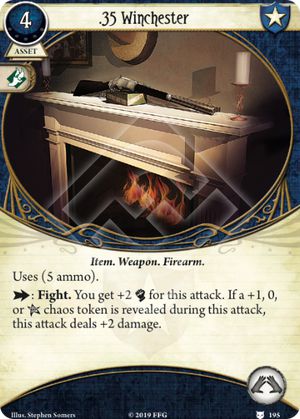 Previously, the consensus on this card has been that while the +2 Combat boost and the 5 ammo are nice, the damage boost just isn't reliable enough to make it an effective weapon -- unless you have access to cards that let you pull multiple tokens, which basically means Olive McBride (Grotesque Statue occupies a hand-slot, unfortunately). With the new taboo list that was just released, this consensus needs to be reassessed. To give the conclusion up front, thesis-statement style: you still need Olive McBride to make the Winchester sing, but there are now ways to make its note even more... piercing.
For those who haven't checked the list, here's the change. In order to get the +2 damage from Winnie's attack, ANY token with a non-negative modifier will do. It doesn't have to be a zero, +1, or elder sign.
What other tokens have non-negative modifiers? Depending on the scenario, sometimes the special tokens will fit the bill. For instance, the skulls in The Gathering will often be zeros (assuming your location is ghoul-free). Same thing in The Untamed Wilds, until you have vengeance in the victory display.
But that's a minor, scenario-specific situation. The real change here is that bless tokens, with their +2 modifier, now score you the head-shot, too. Let's see how pumping the chaos bag with bless tokens changes the calculus.
For most campaigns, you start with around 16 tokens in the chaos bag. Usually four of those would trigger the original Winchester. That means that, pre-upgrade, you had a 25% chance to do 3 damage, and a 75% chance to do one damage or miss. (We're assumining that you're going to hit if you pull a zero or better.) Not great for a four-cost, two-hand weapon. Now, by adding bless tokens, you can improve those odds, though only to a point. If you fully load the bag with 10 bless tokens, you have about a 54% chance to do 3 damage, and a 46% to do 1 or no damage (this isn't exactly true -- there's a chance you pull a bless token and then follow it up with an auto-fail or a -5 for example; just not sure how to calculate that).
Those odds are respectable, but it's hard to earn them. Sniper Mary, I mean Sister Mary, would seem to be the only character capable of maxing out the bag reliably. Others would need either Sister Mary in the party, or a pretty massive commitment to bag-pumping via cards like Blessed Blade, Hand of Fate, and Book of Psalms, The first and last of those cards take up a hand slot, which can create timing problems unless you're sporting a Bandolier. (There are a handful of survivor cards that can pump the bag, too, but if you have access to them, you probably don't have access to the all-important Olive McBride. Those cards can still be helpful, though, if another player is running them).
And this brings us back to the original Winchester strategy -- drawing multiple tokens. If you can pump the bag AND draw multiple tokens, the story changes. Let's say you have Olive McBride as your ally and a certain number of bless tokens in the bag. Now you're turning into a true deadeye!
Odds of a critical hit with Olive and X Bless tokens, assuming a standard 16-token bag:
0: 61%. 1: 68%. 2: 73%. 3: 77%. 4: 81%. 5: 83%. 6: 86%. 7: 88%. 8: 89%. 9: 90%. 10: 92%.
Of course, with Olive, there is now a slightly higher chance that you find a token you want but still fail the test. In most cases, if you draw a zero or a bless token, you're passing, but if you have to pair that zero with a -4 because of Olive, you may fail. Still, the math is now firmly in your favor, even if you're only lightly padding the bag.
What's the upshot? The new and improved Winchester is now a legitimately good card for a particular kind of character -- namely, one who is blessing the bag (or has a partner who is) and who has access to Olive McBride. It still has drawbacks of course -- until you get Olive out, Winnie will be hit-or-miss, and mainly miss. But once you do, the advantages are substantial -- huge damage for a level 0 weapon, plentiful ammunition, and a very handsome boost to combat. And there are upgrade paths that make it even better: Custom Ammunition brings you up to seven, highly impactful shots; and Telescopic Sight could create an interesting playstyle as well, as long as you are not the tank. So, who can make it all come together? From best to ok, I'd say:
1) Sister Scary, I mean Sister Mary. She checks all boxes. The Winchester also converts her mediocre 3 combat into a very respectable 5, without the need for a Beat Cop or skill card.
2) Jim Culver is a sneaky candidate, since he treats skulls as zeroes always. Even without bless tokens, as long as he's rolling with Olive McBride, he has a massive 79% chance to trigger Winnie's effect -- though if you want him to be able to bugle while he blasts, you'll need a Bandolier.
3) Diana Stanley is another character who might benefit from the strategy, since it usually takes a few turns to get her to a spell-worthy Will value. The new Hand of Fate, which cancels an attack and adds bless tokens, is doubly effective for her if she goes this route. It fattens the bag, making Winnie more accurate, and it can be placed under her investigator card for a draw, a resource, and a Will boost. Like Jim, though, Diana will likely run into hand-slot issues: her signature asset occupies one, too.
4) Zoey Samaras. I don't know that she has any special synergy with the Winchester, but she has access to all the cards you need to run this strategy. She doesn't need the +2 Combat as badly as the characters above, but it's still nice to play one asset and suddenly be at a 6. Also, Zoey's Cross is an accessory, so no difficulties with hand slots there.
A great review. Detailed and interesting analysis. I do have one negative comment, if you are playing The Gathering, and there are no Ghouls at your location, you are pretty unlikely to be firing a Winchester hoping for a 3 damage hit :-P —
NarkasisBroon · 1
But what if they need 2 money on their Relentless when they shoot a rat! :P —
Death by Chocolate · 408