주요사건. Stage 1
파멸: 4. 단서: –
ONE END IS ANOTHER BEGINNING.
CHANGE IS THE ONLY CONSTANT.
YOUR ULTIMATE FATE IS AT HAND.
Each location is connected to each location adjacent to it.
Do not remove doom from enemies when this agenda advances.
Lenka Šimečková
검은 옥좌 앞에 #326. Before the Black Throne #2.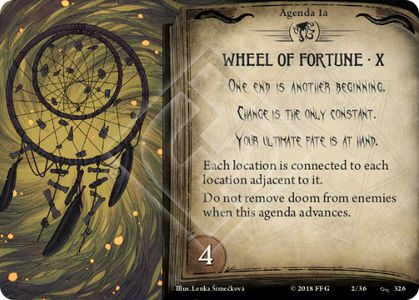 Rejoice, For the End is Near! - Back
주요사건
Somehow, you're not the only human here. They are but mindless husks - almost entirely devoid of humanity, nothing but flesh, muscle, and bone, preserved for eternity in their single-minded passion, kneeling and chanting in foul worship: "Azathoth! Azathoth! The end has come!"
Each Cultist enemy commits ritual suicide. Discard each Cultist enemy in play and move all doom from them to Azathoth.
The lead investigator must search the encounter deck and discard pile for a copy of Daemonic Piping and draw it.
---
Endless walkways and steps of black stone are the only routes which guide you to your destination. It is an impossible maze to navigate.
Check Campaign Log. If Gilman's Journal is listed under "Mementos Discovered," you are able to find you way. Otherwise, you become hopelessly lost; each investigator must either move to the location to his or her left, or move the placement of his or her location once to the left (placing an empty space in the spot it previously occupied). A location cannot move more than once via this effect.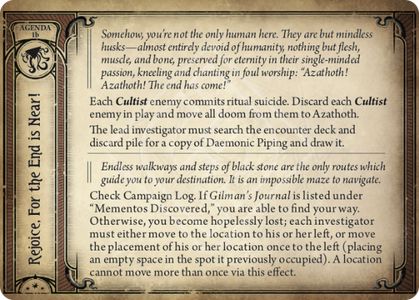 No review yet for this card.