Each of the Historical Society's many rooms contains records and documents that may aid you in your search for answers about The King in Yellow. There must be something here that can guide you toward the truth.
Yoann Boissonnet
과거로부터의 메아리 #124. Echoes of the Past #5.
Late-Night Studies - Back
주요목적
You find a record kept by one of the society's historians pertaining to the "dreadful events" surrounding the closing of an old theatre in Arkham, the Cedar Playhouse. Though there is no explicit mention of The King in Yellow, you believe you are on the right track.
The historian's notes are cut short, and there is a faded, handwritten page clipped to the final entry.
This matter is too ghastly for the public eye. I am placing the remainder of this record in the hidden library. All further inquiries should be done away from prying eyes, for this is a dangerous matter, and not one to be researched lightly.
For each revealed Historical Society location, add 1 clues to it (to a maximum of its clue value).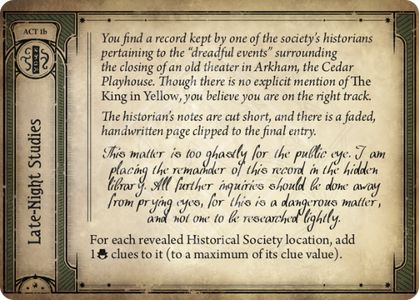 No review yet for this card.