Somewhere in the manor is a "hidden library" where you might be able to find more information about The King in Yellow. You must find the way in if you are to continue your investigation.
Yoann Boissonnet
과거로부터의 메아리 #125. Echoes of the Past #6.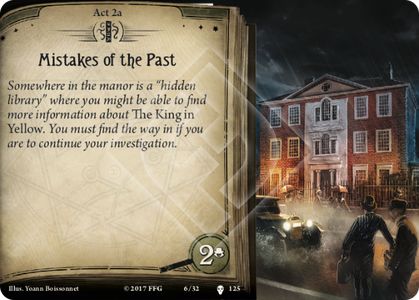 Secret Passageways - Back
주요목적
As you rummage through a desk drawer, you are startled when you hear a voice behind you. "Excuse me! Can I help you?" You are relived to find the voice belonging to a thin, elderly man wearing wide-rimmed glasses - a member of the Historical Society, no doubt. You explain to him that you are searching for a hidden library somewhere in the manor, though you purposely leave out why.
He introduces himself as Mr. Peabody, the Historical Society's curator. "I'll help you find what you are looking for," he explains, "but only if you tell me what this is all about once we get there." You hope it doesn't come to that.
For each revealed Historical Society location, add 1 clues to it (to a maximum of its clue value).
Choose an investigator to take control of the set-aside Mr. Peabody asset.
Put the set-aside Hidden Library location into play.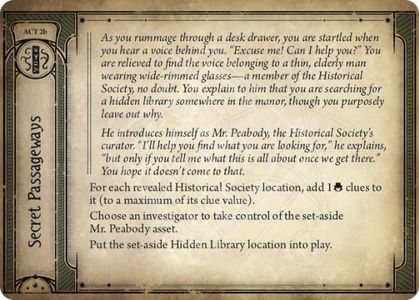 No review yet for this card.