"This building is very old, and filled with all manner of secret passageways," Mr. Peabody explains. "Perhaps one of them will lead to this library you're looking for."
Locations with the Passageway trait are connected to one another.
Objective - Only investigators in the Hidden Library may spend the requisite number of clues, as a group, to advance.
Yoann Boissonnet
과거로부터의 메아리 #126. Echoes of the Past #7.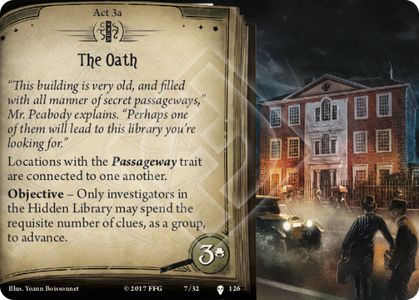 주요목적
As you study the hidden library, you find a few pieces of information that stand out. As with the recent production, the previous performance of The King in Yellow came to Arkham from overseas, and was performed by a French acting troupe. You don't recognize any of the cast members' names, and of course the actor who played the role of the Stranger is anonymous. However, it seems that a member of the Historical Society has done some of your work for you; there are several old newspaper clippings gathered together along with information about the play. Headlines include: Cedar Playhouse Closes Due To Fire, Experts Baffled Over Freak Floods, and the like. Hidden amongst this information, you also find a strange object - A clasp of onyx with an alien inscription.
The investigators must decide (choose one):
- This is an important discovery! We should take it with us. (→R1).
- It's just a silly trinket, and it would be wrong to steal from the Historical Society. Leave it behind. (→R2)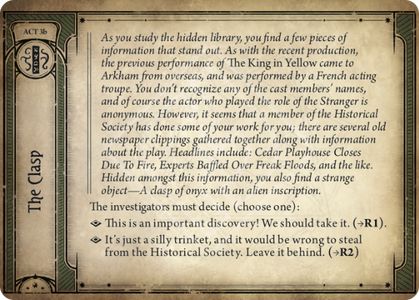 No review yet for this card.