자산.
조력자. 생물.
비용: 3.
테스트 아이콘:
체력: 3. 정신력: 1.
적 하나의 공격이 '경비견'에게 피해를 줄 때: 공격한 적에게 피해를 1 줍니다.
훈련되어 적을 향해 사납게 짖어내는, 이런 충성스러운 개들은 그 자체로서 완벽한 동료이다.
Stephen Somers
기본판 #21.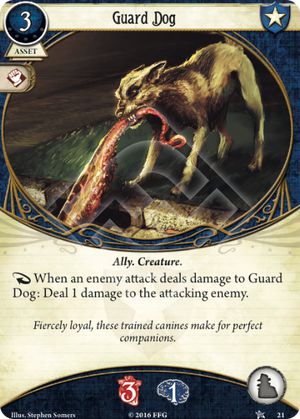 You can use Guard Dog's ability when you assign lethal damage/horror to it.
Last updated
Honestly, I've not used Guard Dog a lot, but it seems to me that it's the Guardian ally for non-guardians. It can efficiently do 3 damage over time, for a reasonble cost, and it's quite nifty being able to invoke an attack of opportunity, soak it up and kill off an enemy.
However, let's face it, if you're a guardian, you probably just want to beat things - so Beat Cop is a more natural fit. And if you've got access to guardian level 1 cards, you could upgrade to Brother Xavier, who offers more, and still does 2 damage. He's better in every way.
So this leaves the place that Guard Dog shines as being with investigators with poor/moderate strength, and access to guardian level zero only. That's pretty much Jim, Rex, and Pete, and the latter two have better allies to take priority.
With Jim, though, Guard dog is pretty good, and it's health/sanity balance nicely compliments Jim's, and gives Jim a good way to do a little damage when he needs to.
I agree with you; it's a decent but not great card. The lil' doggie seems a bit overpriced compared to the competition. The upcoming Mark Harrigan might want to buy a canine companion, though, since it can trigger his ability to draw a card when damage is placed on a card he controls. —
olahren · 2893
I think the overall effect of Beat Cop and Brother Xavier are stronger, but they come with a cost. And by that I mean the actual cost of playing them. Guardians aren't exactly resource rich. With Zoey I struggle to get the 4 or 5 resources saved up after playing a weapon. But Kukri+Guard Dog is a very strong opening hand in my opinion. And I tend to like to play lean decks. —
cheddargoblin · 85
@ olahren Guard dog does combo well the Mark Harrigan, but the doggy will have to compete with brother Xavier, who also combos nicely with Harrigan (more damage dumping, comparable damage dealing ability and willpower boost on low willpower Harrigan) —
Heyenzzz · 6101
Well, Brother Xavier is both more expensive and probably does one less total damage than Guard Dog, so he is not really "better in every way". —
olvenskol · 1
Under the 'Asset Card' section of the rules it states if an asset card has health and/or sanity the investigator may assign some, or all, damage to it. This means if the investigator has other cards to soak damage, or is willing to take some damage themselves, the guard dog could do up to 3 damage to attacking enemies.
Be aware that most cards that boost damage either require 'Fight' or an attack, these will not boost the damage of guard dog.
I think You can only assign 2 damage instead of 3, because as soon as the dog soaks the third, it dies and is trashed, so it can't activate its reaction. —
cybercujo · 1
You can use it even when you assign lethal damage to him. Since it's "when" rather then "after". —
Yury1975 · 1
Understood. I did't see the difference between "when" and "after". Thanks for the clue :) —
cybercujo · 1