자산. 마법
마법.
비용: 3.
테스트 아이콘:
사용(충전 4회).
충전을 1회 소비합니다: 전투. 이번 공격은 대신 를 사용합니다. 그리고 +1 피해를 줍니다. 이번 공격에서 , , , , 기호가 공개되면, 공포를 1 받습니다.
Brian Valenzuela
기본판 #60.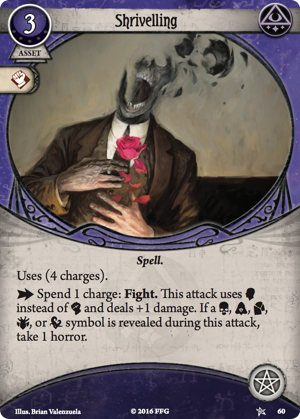 The "If a symbol is revealed..." effect triggers during Step 3 of the Skill Test Timing.
Last updated
Shrivelling (the "Mystic Gun") is a staple level 0 card for almost any Mystic that wants to fight at all.
For those starting with the game, this is a good (but not exceptional) card. It allows Mystics to fight decently. Compared to the .45 Automatic...
Equal or -1 skill value for each fight. Most mystics have 4 or 5 willpower. A Guardian usually has 4 combat, which means they beat out Mateo or Jim when you factor in the .45's +1, but go even with Akachi or Agnes. Note however that Mystics typically have an easier time boosting their key stat, with cards like Holy Rosary.
One resource cheaper. Mystics are usually resource starved.
You take 1 horror if you reveal a bad symbol. Mystics usually have high sanity pools, so this is not a huge issue, but it can add up if you get unlucky.
Takes up an arcane slot, which is a competitive slot (equivalent to hand slots for Guardians).
Shrivelling comes off about even with the .45.
As time has gone on, we have received few other level 0 arcane assets that allow you to fight with willpower - Azure Flame is very similar, while Wither doesn't give you that coveted +1 damage. Shrivelling remains competitive as a result. Consider Azure Flame if you would prefer to take damage than horror. Or even run both!
It's also 1 resource cheaper than the .45, with the same amount of "bullets." —
SGPrometheus · 253
Oh wait you do mention it. How'd I miss that? —
SGPrometheus · 253