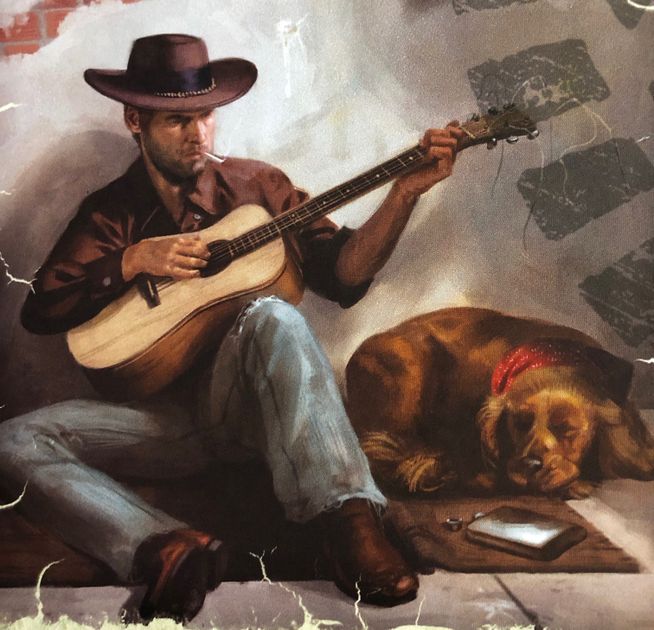 This is the most insane deck I've played in True Solo Campaigns. I have done EotE and Circle Undone, NotZ with constant god-like feeling (except bonfires). I cleared each and every location in City of Elder Things (v1) about 6 doom before the end of Agenda 2. I literally felt like cheating. Moreover, my friends also tested this deck independently with similar outcomes.
Deck thinning is a deck spinning
This deck is not for beginners, I would say, so I don't describe each and every card. Instead, I give you the rough description of concepts used. But if you think you are a beginner and still want to try, then sure, go for it :)
Main Idea
The concept of this deck is to:
You basically pass every test.
Mulligan:
Ideal hand consists of 5 of those 6 cards:
Fieldwork
Madame Labranche
Fire Axe
Plucky
Drawing Thin
These are the crucial assets. Unfortunately, this deck is very asset heavy. Dark Horse in this deck shouldn't (usually) be played before turn 3.
Soak
Since one of the most important cards is Plucky, we need to protect it from damage. I played this deck with Leather Coat / Leather Coat which is here a lesser card comparing to Improvised Shield. Duke also is very good soak, because it is always from turn 1. Soak is also important because of Wracked by Nightmares. This is a brutal weakness. And it always comes at the worst possible moment. I don't know how it is possible.
Piloting the deck
This deck is very specific to play. Your typical turn consists of at least one Duke investigation ability with moving. This is crucial, because it is better to use Duke to move twice along two turns than twice in the same turn. That it is how you gain tempo and advantage of the game and mitigate all of the cost you played at the beginning setting up that all heavy rig.
Typical turn at the beginning of the game:
Play an Asset
Play an Asset
Move and investigate
Typical turn later in game:
Move and Investigate
(ready Duke)
Move and Investigate
Play an asset
OR, if you have an enemy somewhere (usually at yout location (B) or at the connecting location (A)) :
1A. Move and Investigate
1B. Fight with Axe
3. Play an asset.
Don't use Madame Labranche too early. Wait as long as you can. If you haven't needed her generosity this turn, gain a resource in the window just before upkeep. And Always gain a resource in upkeep - you can always dump it on Plucky or Scrapper.
Restart to level 0 deck:
Ideas for 'whatever': Live and Learn, Survival Instinct, Keep Faith, Unexpected Courage, Stunning Blow, Reckless Assault, Rise to the Occasion. Literally anything you might find useful. Worst case it is still better than a blank card. And a blank card is still valuable, since you can discard it to ready Duke!
Priority of upgrading:
I would say that Plucky and Drawing Thin are the most priority upgrades. Then, upgrade everything you can (by name).
Once you get to those 26xp (19 without taboo) there is really hardly anything to upgrade for. I don't know, buy Observed, Déjà Vu (I know it does almost nothing in this deck, but hey, you won't need any more experience, really), second copy of Scrapper... xD
Maybe you want to try Enchanted Bow, but I did not test that particular card here.
Final Thoughts
I played this deck heavily. At least 28 scenarios so far (including eote+tcu). After EotE I did not change it very much, when I played TCU. In both cases I banked around 10+-ish experience, because literally every other card was decreasing the draw and/or functionality. Btw, do not cut out the coreset neutral skills. Just don't. Please. They replace itself and in this deck it is all about draw.