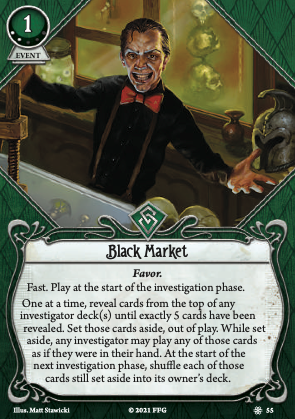 "Market" might suggests off-class Asset shenanigans and you start planning team gymnastics in order to use this card, which is fun. But it is also simple to enjoy this card without extensive strategy meeting : Just check out your friend's deck if they contains Enemy Phase / Mythos Phase reactive Fast Event cards or not then you can decide on your own to purchase this card. (Effect lasts until your next Investigation Phase.)
It basically widens the card's coverage to the max. Sometimes that card can only be used on self, then Black Market turns it to anyone. Sometimes that card says you can use it for friends at the same location, Black Market makes it even more flexible who would pay the card's cost. Also they became open information, not often you get to say WE ALL have Lucky! / Ward of Protection in Investigation Phase.
5 cards is quite a wide search in a thin deck game like this (5/25 in the first round, but after some time had passed you have better odds.) Check that player's discard pile if what you are aiming for are gone or not before going for it and hope they are not on their hand. Some examples from the Revised Core Set :
PS: "One at a time, reveal cards from the top of any investigator deck(s)" : You can even stop revealing when you found your desired target and switch to someone else's deck for the remaining cards. The more colorful your team composition is, the more choices you can cook up the market to perfection.
Playing friends in low places before this with the option to put cards back in any order is great to plan ahead and make sure all cards are played —
Django · 4753