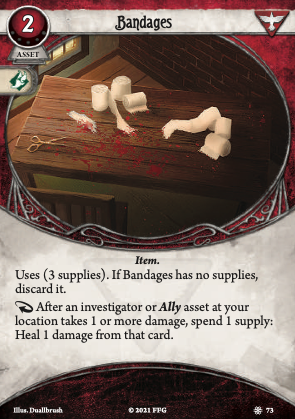 Did you know that you can use bandages as a filter to reduce the harmful effects of smoking?
It's a good combo ... Effectively, you are paying 3 resources and two actions to heal three horror, which isn't terrible.
But it really shines with Bob, where you are paying zero actions and one resource (if you have Shrewd Dealings in play). Plus you can probably reuse them with Scavenging or even pass them to a friend in need.
Now you might be thinking that Bob has a lot of sanity, and that's true, but if you start building up trauma as a campaign progresses, swap these two in with Adaptable.
Sadly the cigarettes don't discard themselves and they don't have a slot so you can't even override the slot with another card. So if you want to play this combo with Bob better bring along your local trader Joey for sale the used cigarettes. —
Tharzax · 1